Origins
On 9th April 1966, a Norwich beat group called Circuit 5 became Eyes of Blond. This was following a competition in the Eastern Evening News to find a new name for the band – now with six members. Since September 1964 Circuit 5 had built a reputation as a popular Rhythm & Blues/Soul band with James Brown's music featuring alongside Chuck Berry, Fats Domino and various Stax artists.
Personnel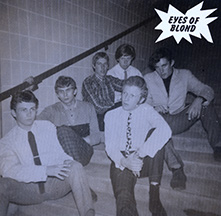 The first Eyes of Blond lineup included John E. Averill on bass, Ronnie Dearing lead guitar, John Marshall drums, Trefor Thomas on electric piano, Colin Clegg vocals and founder Phil Wade on rhythm guitar and tenor sax.
Colin left in February 1967, leaving Phil with responsibility for vocals (he was the only one who knew the words). Ronnie left in April and auditions for his replacement resulted in Phil Dimitri taking over on lead guitar. John Marshall departed in March 1968 and John E. Averill, who had been with the band right from the start, left soon after.

John Marshall's replacement was Michael Sullivan and John E. Averill was replaced by Neil Applegate in late April 1968.
Trefor Thomas left in May 1968, making Phil Wade the only original band member. David Farrow joined in September 1968 (singer) and Michael Sullivan continued until November 1968 when he was replaced by drummer Paul Watts who was successful in the extensive auditions. David Farrow left in February 1969 leaving Phil Wade with most of the vocal responsibilities again, although Neil was featuring in more songs and Dimitri also sang.
This lineup continued very successfully and the group became fully professional on 16th September 1969. After a year of performing professionally, Paul Watts left and was replaced by Harry Rix on drums.
You can download a timeline (PDF) of those founding, leaving and joining the band here: Eyes of Blond Timeline
Music & Style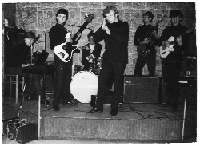 In the early days, all the band's songs were cover versions of American soul and R&B records. Tamla Motown numbers became an increasing part of their repertoire, and the band were very busy playing at dance halls all over East Anglia. Ronnie was a fine blues guitarist and was not impressed with the limited scope for him in Tamla Motown – which lead to his leaving.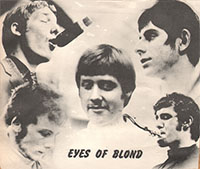 Phil Dimitri surprised us with songs that he'd written himself, and the band's direction started to change quite quickly. With numbers from the Byrds, Desmond Dekker, Foundations, Junior Walker, Traffic, and Dimitri's own songs – a very different sound was developing. When John Marshall then Trefor Thomas departed, the band was back to three guitars and drums, no solo singer, and quite a young look. Songs from the Equals started to feature which emphasised the dance nature of the sets, with Dimitri's songs leading us into flower power and more progressive styles.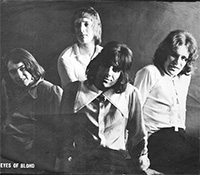 A song which epitomised the band's development was from Rupert's People called Hold On. This, together with NSU (Cream) was used as a vehicle for Dimitri's ever evolving guitar sounds. Softer styles were inspired by Buffalo Springfield, Lemon Pipers, and more obscure numbers from the Byrds. For fun, the band did a medley of Rolling Stones songs. This was far more popular with audiences than expected and was often used as an encore.
After nearly a year of the Wade/Dimitri/Applegate/Watts lineup, the band went fully professional. It had become increasingly difficult to fit in the day jobs with all the appearances and the necessary travelling. Now all the free time (when there was no gig) was used to practice and hone new songs – nearly all written by Dimitri.
Before long, Hold On was replaced by a Dimitri instrumental – Dream of the Whispering Wizard. Other Dimitri numbers followed,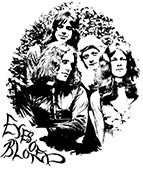 and the group became popular in the larger venues and, increasingly, the university and USAAF base circuits.
When Harry Rix joined in September 1970 we were delighted to discover that he was an ex-lead guitarist and a prolific song writer.  The sound was definitely more progressive now, with nearly all songs our own material.
You can download a timeline (PDF) of those founding, leaving and joining the band here: Eyes of Blond Timeline
Breakup
Norwich Artistes (our management/agency based at the Melody Rooms, Oak Street - now The Talk) did their best to accommodate, but many of their bookings involved "swaps" with other promoters/agents who also ran dance venues.
Things came to a head in February 1971 after a short residency in a Munich music club when it became clear that too much expenditure was imminent. The amount of work being offered was decreasing while the van needed replacing, as did the ageing PA system.
The group decided to break up, but not before promoting their own farewell tour of all their favourite venues in Norfolk and Suffolk. Their last night (in Attleborough) was organised by promoter Les King so we could concentrate on giving a good last performance.
Reunions
1997
The band got together at the Dolphin pub, Norwich. A picture will be posted here.
1997 (live)
Eyes of Blond performed at the Golden Years (UEA) in 1997. The lineup had Ronnie Dearing on lead guitar, Phil Wade on rhythm and vocals, Colin Clegg on bass, Trefor Thomas on Hammond organ and vocals and John Marshall on drums and vocals. Sadly Ronnie, Trefor and John have since died.
2005
John Marshall, Phil Wade and roadie Wizz Wiseman were interviewed over the phone by David Clayton for a live Radio Norfolk broadcast. The recording is/will be on the Recordings page.
2007
The band got together at the Walnut Tree Shades in Norwich in April, then went for a meal at Captain America's in Exchange Street. They were interviewed by Radio Norfolk, and the recording is/will be on the Recordings page.
2013
Following the death of Trefor Thomas in 2012, John Marshall was insistent that we get together "before any more of us die". We met at the Ketts Tavern in Norwich on Saturday 13th October, then went on to Zaks nearby for a meal. This was the first time some of the band members had met each other. We were shocked and saddened when John Marshall died just five weeks after the reunion.
2014 (live)
The group performed at Maxims in Eastbourne on 28th June 2014 at a celebration of Phil Dimitri's 50 year involvement in Martial Arts. The lineup was that which went professional in 1969 – Neil Applegate, Phil Dimitri, Paul Watts, and Phil Wade - plus Al West (ex-Dimitri) on vocals and guitar.
2015 (live)
This same lineup (plus Colin Clegg on keyboards) performed at The Talk, Oak Street, Norwich, on 24th January 2015 for a "Reunion Party" – it was Phil Dimitri's birthday too.